The last Saturday of June was a showing of The Caves of Androzani at the Alamo Drafthouse on Slaughter Ln in Austin.
I wanted to wear my Fem!5 outfit to the showing... But it's really hot here right now.
I remember when I went to New York comic con one time and there was a Fem!Doctor group cosplay. What really intrigues me about this group was that it seemed like each costume had come right out of each woman's closet. They used accessories and props to help bring normal looking Outfits more towards the portraying the character each woman was supposed to be. I remember the Five of the group was particularly adorable, and I was wearing my own Five outfit at the time. So I went up to her, complimented her on her outfit and expressed my jealousy that all she had to do was take off the celery and she looked like she could just go anywhere. It also looked very comfortable. So completely last-minute I decided to try to do a little closet cosplay of my own
In my closet I found a tan skirt, white v neck tank top, tan shrug, orange tights, and some white open-toe sling-back shoes.
I needed to accessorize to add color and make it more like the Fifth Doctor's outfit.
So I took the little knitted piece of celery that I usually wear on my normal fem!five costume and pinned that to the shrug.
Then I got a red necklace and a black necklace, twisted them together, and strung a key on it to wear around my neck. This not only served as a necklace and my TARDIS key, but also served to represent the trim along the neckline of 5's cricket jumper.
I'm most proud of the headband/fascinator that I made in less then 20 minutes right before I left to go to the theater.
The fifth Doctor's hatband is a very distinctive pattern of a red field with white circles superimposed over a little black squares. You can get a replica of this fabric on Spoonflower, but I didn't have that kind of time. So I went to the craft store and found red ribbon with white dots printed on it. I took a sharpie and touched it to the ribbon next to each dot. Because of the way the ribbon is woven, the ink spread out a bit on it's own. (So, it was tedious but went very quickly.) If you look really close, the black splotches look kinda not so great, but I really think having the black spots next to the white dots looks better than just using red ribbon with white polka dots.
For the fascinator I just used the red question mark camio pin I commissioned from helzerscreations.com which I usually wear with my regular fem!5 costume.
I have plenty of the ribbon left. I'll probably re-do this headband with a different fascinator for future use.
It was a success! I got a lot of compliments and it was super comfortable. So I guess I don't have to suffer for my cosplay after all.
(
picture under the cut...
Collapse
)
something I thought would give me the read
.
Also, I found a dress but I'm not sure how I feel about how I look in it. So I may make myself a dress in a pattern that is more flattering to me rather than "screen accurate.
I'm really starting to slack off. I WAS going to make a copy of Clara's watch but I decided to buy
I found this pattern:
New Look 6567
, which might work for She-Force but might also work for a Star Trek TOS uniform that would be at least somewhat flattering on me...
Maybe it's just the colors they decided to use for the different variants you could make with the pattern.
So while fixing the formatting on my She-Force post from the other day, I was trying to find the patterns I'd wanted to look more into for Jenny's Super outfit.
Current Mood:

nerdy
In the end, I only gave it to people wearing the Clara outfit from Asylum of the Daleks. (Since they were the only ones who got the joke.)
I HAD planned on wearing that outfit when I handed out the ribbons, but I never got around to making it. It's a simple enough costume: red dress, black belt, black leggings, red high-tops and a flower in your hair.
Actually, it's a little more complex than that according to all the breakdown and "I found this" posts on
dw_cosplay
.
She's got some
adorable funky shoes
for instance, which I ordered and hopefully they'll fit. (If not, I'll pass them on to somebody else and make due with red Chucks or something that will give me the read. Comfort is more important than screen accuracy.)
The other thing about her costume that's pretty cool and funky is her watch.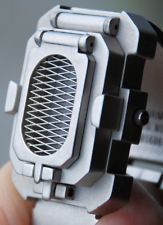 This is a lady's watch called "Junior" by a UK company called "Storm".
(
More Watch Pictures
Collapse
)
Between the laser cutter and the Replicator 1 at the
Hackerspace
I could probably make a bracelet that replicates the shape of the closed watch fairly easy, then stick it on a
silver mesh watchband
.
I'd really like to get my hands on the actual watch though. It looks cool. But Storm does not make cheap watches and this particular model is from 1991.
Okay so at Gally 2013 I had badge ribbons that said, "I got the milk from a cow. DUH".
Current Mood:

geeky
I have 11 yards of $1/yd mystery clearance fabric that seems like it would be a reasonable color to use... To make up a mockup that would read well if nothing else. It doesn't have the same texture, but the color is a nice non-green khaki.
(
Ada Gillyflower
Collapse
)
I'm working with a local Austin makeup artist to create a prosthetic to replicate the scars around her eyes. More on that later.
There's a button missing on the front of her bodice, I need to check on my screenshots to see if it's still missing when they shot the episode. Either way, I don't think I'll replicate that missing button... On the one hand, I kinda like that it's not a NEW outfit, and she is blind so maybe she doesn't notice... But considering how obsessed her Mother is with perfection, I don't see her NOT noticing and fixing it.
The thing that's been giving me the most grief is the brown trim on her bodice, which I KNOW I've seen in trim stores in the Fabric District in LA but I have no idea what it's called... Though I'm sure those gloves will be making me cry soon enough.
(
Brown Trim
Collapse
)
I think
this will be a good pattern
to use for the bodice, there's two views, I'll use the more plain of the two variants. Checking out the parts where she is walking away from the camera,
this
might also be a good option. I was worried the back bit might come down too far...
She's got an "apron", I'm still looking for a good pattern for that. But so far, this
French Fan Skirt
, looks pretty good.
I've been looking into Ada Gillyflower from the Doctor Who (21st Century Series) 7b episode The Crimson Horror.
Current Mood:

artistic
So I was going to start this journal off again by documenting all my past costumes but... meh to that!
was a totally awesome British sitcom about Super Heroes hanging out at their favorite "Cape Pub".
She-Force, AKA - "Jenny" is the world's 3rd strongest woman. She's cheerful and hopeful and really quite hilarious.
(
Here she is:
Collapse
)

I think I can use Simplicity Pattern 2648, to make the dress. Although I MIGHT use 2247 instead because I think it would be more flattering for me. 1182 has possibilities also. I'll have to add that little split on the left side of the skirt... It's interesting because in some pictures that split is there but on other pictures it appears that the trim is there to make it look like the skirt has the little split is but it really isn't open the way it is in the pictures above.
The primary color is a little more purple than it appears in these pictures. The "belt" seems to be a separate piece.
Current Mood:

curious


Is anybody still here?

I might be checking into how to get my journal name changed to something else. I hope that won't freak anybody out.
Okay, so I might be taking this livejournal up again. Using this to keep track of projects in props, cosplay, electronics, and combinations therein.
Maria MK 1 phase 4,
originally uploaded by HitsHerMark.
Not my best work. But not bad for something I did on the fly in under an hour.
#fallout
#SDCC
#Props
Voting for the contest in which I entered that video I can't shut up about is here...
http://blogs.kteh.org/doctorwho/2009/05/15/time-to-vote/
If I win, I promise to say "Yay!" and mention it no more.
If I don't win, I'll agonize about it for ever and ever and you'll never hear the end of it.
I may even call some of you.
I can do that. I have your contact information... Or the contact information of somebody who has your contact information and would give it to me just to foist me off onto somebody else.
As you may recall. My video is called "The Burning Giraffe". I'm hoping you'll all vote because a) you care and b) you like my entry best... But if you're willing to vote out of pity... I can live with that.
Hello all.
Current Mood:

excited
For those of you in the South Bay area that get the PBS affiliate KETH, they will be showing promos of the entries after episodes of Doctor Who starting on the 15th of this month.
KETH shows episodes of Doctor Who and Doctor Who Confidential Fridays at 11 PM.
For those of you, like me, who live outside of the KETH broadcast area, the promos will be posted
here
.
And for those of you who don't want to scroll back to see my quite frankly magnificent 2 minute video, you can click
here
.
Yay!
Remember a while back I posted and wouldn't shut the hell up about a 2 minute Doctor Who fan-episode I wrote, produced and co-starred in? It was created for a contest and things are finally moving forward on it! (Again.)
Current Mood:

bouncy